Events Calendar
Sep
1
Thu
9:00 am
The MoMath MATRIX conference

@ University of Leeds
The MoMath MATRIX conference
@ University of Leeds
Sep 1 @ 9:00 am – Sep 3 @ 5:00 pm
Are you interested in outreach and public engagement for mathematics? Do you create, design, operate or sell maths exhibits? Then join us at the MATRIX conference at the University of Leeds, 1st to 3rd September 2016.The MATRIX (Mathematics Awareness, Training, Resource, & Information Exchange) Conference is jointly organized by MathsWorldUK, MoMath, the National Museum of Mathematics (New York), and the School of Mathematics, University of Leeds. It is a gathering of people interested in improving the public perception of and engagement with mathematics. The aim of the conference is to share ideas, experiences and best practice in the area of maths outreach. We intend it to be the largest UK gathering of outreach-minded people in recent years. (International attendees warmly welcomed of course.) The conference will include public lectures by Hannah Fry and Tadashi Tokieda along with a large number of 20-minute talks. For more information and to register, visit the conference webpages here.
5:00 pm
A world from a sheet of paper

@ University of Leeds
A world from a sheet of paper
@ University of Leeds
Sep 1 @ 5:00 pm – 6:15 pm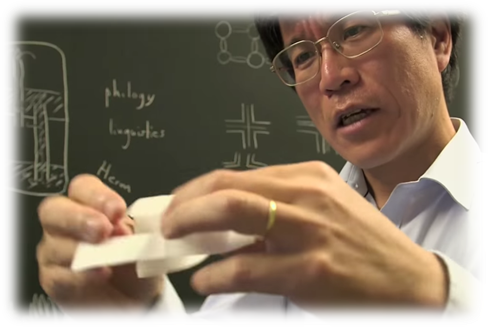 Maths World UK | Public Lectures Tadashi Tokieda (University of Cambridge/Stanford University) presents: A world from a sheet of paper Thursday 1st September 5pm-6:15pm Start with a sheet of paper. By folding, crumpling, sometimes tearing, we will explore a variety of phenomena, from magic tricks and geometry to elasticity and the traditional Japanese art of origami. Much of the show consists of table-top demos, which you can try later with friends and family. So, take a sheet of paper… Tadashi Tokieda has attracted worldwide attention for his work connecting maths and science with toys and origami. Having worked as a painter in Japan and as a classical philologist in France, he is now a mathematician at Stanford and Cambridge, and is active in outreach in the developing world, especially via the African Institute for Mathematical Sciences. Suitable for ages 11+ (children should be accompanied by a responsible adult). The talk will be followed by optional visit to conference exhibition and reception. For more information and to register, please visit the MATRIX conference website here.
Sep
3
Sat
11:00 am
The Mathematics of Love

@ University of Leeds
The Mathematics of Love
@ University of Leeds
Sep 3 @ 11:00 am – 12:15 pm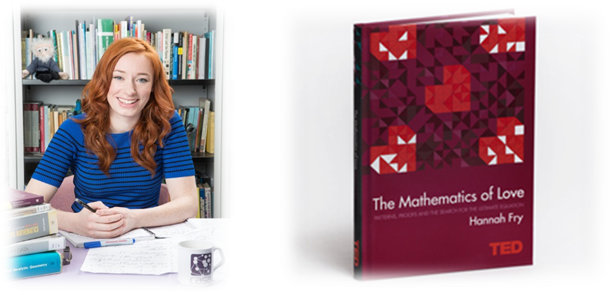 Maths World UK | Public Lectures Dr Hannah Fry (University College London) presents: The Mathematics of Love Saturday 3rd September 11am – 12:15pm You'd be forgiven for thinking that love and maths don't naturally sit well together. Equations and proofs seem pretty poorly equipped to capture the thrill of romance or the world-ending despair that love can bring. But love – as with most of life – is full of patterns which mathematics is uniquely placed to describe. What are my chances of finding love? What profile picture should I use to maximise my chances in online dating? When should I settle down? And how can I avoid divorce? Sometimes serious and sometimes playful, Hannah will take us on a tour of the most talked about subject in history – using maths as our guide. Dr. Hannah Fry, a lecturer in the Mathematics of Cities at University College London, has contributed to several BBC documentaries including City in the Sky (BBC 2), Trainspotting Live (BBC 4), and The Joy of Data (BBC 4). Suitable for ages 14+ (children should be accompanied by a responsible adult). The talk will be followed by a screening of the Schools Video Competition winners and a chance to explore the conference exhibition. For more information and to register, please visit the MATRIX conference website here.
Ever been curious as to what studies and research are taking place in Leeds? The Be Curious Festival was an exciting, free, interactive event, suitable for everyone with an interest in health, wellbeing and the human body. Held at the University of Leeds, Parkinson Court building on Saturday 19th March 2016, 10am-4pm, members of the public could come and see, play with and learn about our work!
This event is ran during the Leeds Festival of Science public events programme
Colouring competition results
Thanks to everyone who had a go at colouring in our 'Be Curious'-themed sheets! The winners are displayed below – congratulations Shakila, aged 8, and Daisy, aged 6!
Stalls
At the University, Parkinson Court will be filled with a range of stalls allowing everyone to 'have a go' at activities such as knitting a 3D sculpture, finding out more about joint replacements, looking at the effects of energy generation on the human body and having your face 3D scanned. There will also be an inflatable planetarium where you can lay down and see films about how your body works, throughout the day.
As part of Knitville – the hands on knitting of 3D sculptures – tours to visit the Mitzi Cunliffe sculpture on campus will leave at 12:00pm and 3:30pm.
Families
The family room, for younger children, will invite them to look at how an MRI scanner works, and taking samples of the inside of their cheek and looking at them down a microscope as well as having a go at re-designing neighbourhoods so that walking and cycling become easier ways of transport.
Talks
Throughout the day there will be sessions aimed at the grown-up audience too, which include some short talks presented by researchers at the University on topics such as combating back pain, dealing with blood pressure issues and personalised medicine.
Guided Tours
There will be 5 guided around the University leaving every half hour from the Parkinson Building. These will cover:
Health and Wellbeing through time
Visit the scientific and medical museum displays and food tasting of medieval recipes.
Virtual Health and Wellbeing
Visiting demonstrations of the use of robots in care homes and understanding how maths can be used to understand the immune system
Engineering in Health and Wellbeing
Activities will include looking at surgical technologies, use of robots in rehab and meet Frank the cycling skeleton.
Mind, Brains and Bodies
Hands on interactive activities for all ages looking at how we work as humans, from our brains, teeth, to the control of our bodies.
Senses in Health and Wellbeing
A smelly pop-up café to see if you can identify smells and what they remind you of and also see come and feel the effect music has on your health and wellbeing
Theatre show - 'People Are Messy'
6:30pm to 8:30pm
Clothworkers Music Hall, School of Music, University of Leeds
Suitable for age 14+
People Are Messy, by award-winning playwright Judith Johnson, is a comedy drama examining the complexities of patient and public involvement through the eyes of two teenagers with very different ways of confronting a future made uncertain by a serious medical condition.
Democracy, autonomy, personal responsibility and loss are all explored in this engaging, entertaining and accessible production. The play is followed by a facilitated debate, allowing the audience to further explore these issues.
It aims to engage people aged 14+ in an informed debate about the practical, ethical and social issues around decision-making and health research. It is equally engaging for adults and young people alike.
People Are Messy, by award-winning playwright Judith Johnson, has been devised and produced by Theatre of Debate with support from NIHR Oxford Biomedical Research Centre and a Wellcome Trust Strategic Award.
For more information, see the Theatre of Debate website.
Admission is free, but booking is required. Book online here.
Event details
'Be Curious', Saturday 19th March, 10am – 4pm
Please note the 'People Are Messy' theatre show is 18:30-20:30
Address
Parkinson Court
University of Leeds
Woodhouse Lane
LS2 9JT
Directions and campus map can be found here
Costs
The event is free, all day.
The 'People are Messy' theatre show in the evening is also free but requires advance booking.
Age groups
Everyone is welcome, and there is something for everyone too.
Parking
Free parking is available for the day on campus in our new multi-storey car park. You will be given a code at the event, to enter into the parking meters before leaving.
Publicity to take away
Contact
If you have any questions, you can contact the Be Curious organisers through peteam@leeds.ac.uk, or 0113 3431149